The Mike Harvey Show and Super Gold
Weekdays, 7:00pm to 12:00am – Saturdays, 6:00pm to 12:00am
The Mike Harvey Show brings fun and excitement to your radio! Non-stop personality, requests, artist themes and the biggest hits of the Rock 'n Roll era!
SuperGold, America's favorite weekend show, is now available live every weeknight and Saturday night… the way hit radio was meant to sound.
Mike's Toll-Free Request Line is: 1-866-890-MIKE (6453) and is available only during his LIVE show-times.
Casey Kasem's American Top 40: The 70's
Saturdays, 7:00am to 10:00am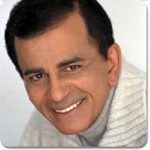 Join Casey Kasem every Saturday morning for these classic shows from the 1970's.
These are the original shows hosted by Casey during the 70s, complete with all the songs that made Billboard's hallowed Top 40 Chart. Each week's show features a specific countdown week from the 70s, complete with Casey's original narration, fun facts, and those long distance dedications. Plus, all the music in the countdown has been digitally re-mastered for superior sonic quality.
It's three hours of classic American Top 40 shows from 1970-1978, all in their original broadcast form.
Nina Blackwood's Absolutely 80s
Sundays, 6:00pm to 9:00pm
Blonde, raspy voiced and rocking, Nina Blackwood was the very first MTV VJ, and today, Nina rules the nostalgic rock radio airwaves as Queen of 80s music with her show "Absolutely 80s" every Sunday night!